Nikkei 225 aggregate dividends are estimated to grow by 12.3% to reach JPY 8.2tr in 2017.
At least 25% of the companies deviated from their dividend guidance over the last three years, with the majority paying a higher actual amount.
Nikkei 225 DIPs registered a higher growth rate amid FX volatility during Abe's reign.
Conservatism and reform on corporate governance mitigate the dividend downside risk in Japan.
Aggregate dividends from Nikkei 225, one of Japan's benchmark indices, are on track to reach multi-year high of JPY 8.2tr in 2017. On the back of favourable tailwinds stemming from a robust economic outlook and weak Japanese yen, we are expecting the positive momentum to continue through 2018, and are forecasting dividends to grow by another 9.6% to around JPY 9tr in 2018.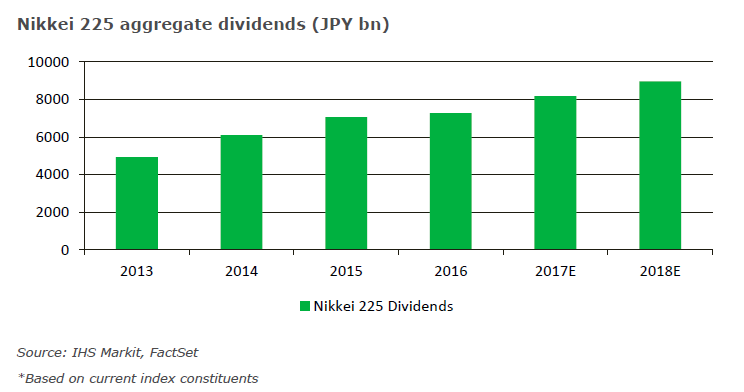 At least a quarter of the companies deviated from their guidance in 2015, 2016 and 2017, and we observed that more than 90% of these deviations were attributed to higher actual dividends paid. The majority of the deviations from guidance were found to be within the margin of 20% on a per-share basis. That is, the deviations in 2015 (77%) and 2016 (86%) are within 20% of the actual dividend amount.
In our study, we found that among Nikkei 225 index companies that had been part of the index between 2015 and 2017, around 8.4%, or 19 of the companies consistently paid dividends that exceeded their guidance. Conversely, there are no companies that consistently paid dividends lower than their guidance since 2015. Moreover, in recent years, the limited amount of occurrences where actual dividends are lower than guided dividends showed that while management teams are conservative, they are adverse to negative surprises, and are likely to reward shareholders on a consistent basis.
Being an export-dominated country, yen strength tends to have a direct negative impact on corporate profits and should consequently impact dividend payouts as well. However, we observe that Nikkei 225 dividends have a strong upward sticky characteristic. Notably, dividends tend to remain on a flat or positive growth trend – a clear reflection of the underlying policies of Japanese companies that value stability. This effect was especially pronounced in 2016, where Nikkei 225 Dividend Index Points ended the year marginally higher than the previous year, even though the yen gained more than 16% on the US Dollar over the first nine months of the year, showing that companies shy away from dividend cuts even when corporate profits fell almost 20% on a per-share basis in the same period.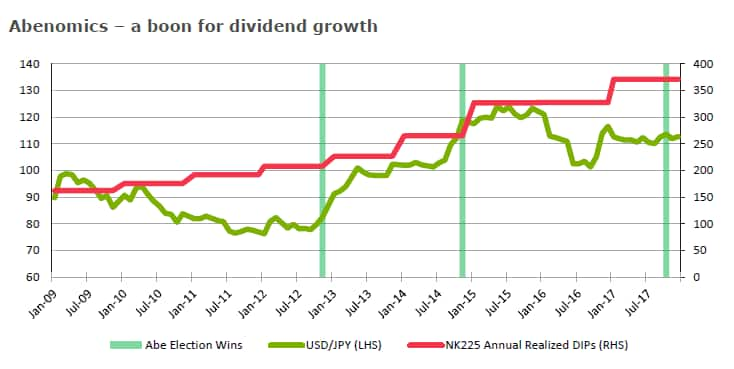 To access the report, please contact dividendsupport@markit.com
Marvyn Hoi, CFA, Senior Research Analyst at IHS Markit
Chong Jun Wong, Senior Research Analyst at IHS Markit
Posted 7 February 2018
Continue reading at Markit - Securities Finance →